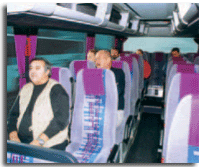 As we have been in operation since 1971, our experience will guarantee efficiency and readiness to meet our customers' requirements.

Over the years, SNAP has diversified its activities and developed into a company whose coaches transport very cosmopolitan customers all over Europe.

The coach fleet consists of 36 modern, recent, comfortable and reliable coaches, well-equipped for long distances, offering a choice of 8 different capacities with a range of 14 to 59 seats.